Integrity Repipe Inc has the best technicians in California. The technicians will come in and inspect the pipes of your home and give you options for the next best course of action. The integrity of your pipes will be in good hands. With five-star ratings on Google and Yelp, our slab leak repair services are top notch. Along with the five-stars ratings, Integrity Repipe is number one repipe plumbing company in the country.
Contact Integrity Repipe Inc
Best Slab Leak Repair Company
Integrity Repipe Inc
949-397-2404
4repipe@gmail.com
927 Calle Negocio Suite O
San Clemente, CA 92673
HOURS OF OPERATION
Open 24 Hours / Day
*Plumbing Emergency 24 Hours*
California Leak Detection Services
When you hear plumbing, you think of the smell and the mess. Integrity Repipe will find the leak without damaging your home. Using ultrasonic meters, infrared thermometers, digital acoustic technology and thermal imaging, our technician will detect the leak without drilling a hole until it's necessary. Our goal is to get the job done without leaving a mess behind. We will start with a clean workstation and leave no mess behind. When Integrity Repipe plumbers leave your home, there will be no indication that they were there.
When Integrity Repipe walks into your home, we respect as if it was our own. Our plumbers will do their job, and leave no mess behind. Call us to learn more about our services.
We mention the top three symptoms of a home slab leak. Other indications are the sound of running water when all the water is turned off, new cracks in walls or flooring and excessive moisture under carpets. Do not ignore these symptoms. Repair the slab leaks as soon as possible. Waiting or ignoring these indications can cause further damage, or cost more.
Integrity Repipe has the fastest and most experienced technicians near you. Give us call, and we will be able to inspect your home and inform you if you have a slab leak or not. If you do, we are the plumbers to do the job.
Plumbing Leak Repairs in California
Pipe Leak Repair
One method to repair a slab leak is a spot repair. Open up the slab at the spot of the leak and repair leaking pipe. This option is very cost effective for newer construction. Plus, it will require more time to repair the leak and clean up. Give us a call to learn more.
Epoxy Pipe Coating
Another method is epoxy pipe coating. In-place pipe coating is applied through the inside of plumbing. This is mostly prescribed for a system that has a series of small leaks, rendering the normal repair cost prohibitive, or if it is too inconvenient to dig up the slab.
Repipe or Reroute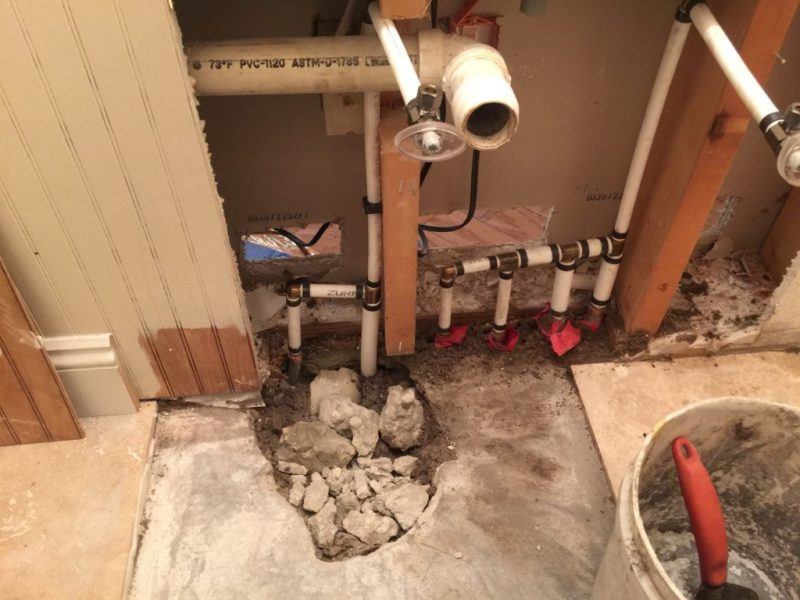 The last method is a repipe or reroute. Replace the entire line that was leaking. This is most effective for older plumbing systems that have a history of leaking. However, its most likely the best option. To learn more about the repair options, give us Integrity Repipe a call.