Slab Leak Repair Near Lakeside
When water bills start to rise and your water pressure is too low or you have noticed hot spots in your floor, it is very likely that you have a bigger problem with your plumbing. All these signs point to a leak in the slab. When this happens, you should immediately call your local Lakeside plumber today to inspect the condition of your pipes and find the source of the problem. Get qualified repiping experts to take care of your plumbing in Integrity Repipe.
Integrity Repipe has five-star reviews on Google, Yelp and Angie's List, for the best and most reliable plumbing technicians in Lakeside. Our plumbing technicians are adequately equipped and qualified to care for your plumbing with precision and skill. We are proud to serve the Lakeside 92040, 92021 and areas and more. Our plumbers are trained and qualified to find the source of the slab leak in your home, and repair it thoroughly and affordably.
Contact Integrity Repipe Inc
Chula Vista PEX Repiping Company
Click edit button to change this code.
Lakeside Leak Detection Services
If you suspect a leak in your existing plumbing system, all you can imagine is a huge disaster, and an even bigger bill. At Integrity Repipe, we offer high-tech, non-invasive leak detection services using a variety of technologies including ultrasound meters, infrared thermometers, digital acoustic technology, thermal imaging and much more. Our highly trained plumbing technicians can quickly find the source of the leak and make sure to leave the job site clean and tidy as it was found. We are able to repair the leaking slab with minimal disorder and at an affordable price.
Affordable Repipe Plumbing
When you need a qualified Lakeside repiping company that provides services in the 92040 and 92021 areas of Eucalyptus Hills, Blossom Valley, and more, ask for the help from experts and reliable plumbing technicians at Integrity Repipe.
If your pipe does not have low water pressure, hot spots or high water bill costs, do not rule out the possibility of leakage in the slab yet. Although these are the most common symptoms, there are many other signs that warrant further inspection. Some other symptoms may be running water, even when the water is off, new cracks in the walls or floor, excessive moisture under the carpet and other floors, and more. Should any of these problems arise, you should immediately contact the local Lakeside slab leak plumber to repair or replace your pipes to avoid additional damage and additional costs.
By requesting Integrity Repipe's help, you will get the highest quality emergency repiping services 24 hours a day, 7 days a week. We can repair the slab leak with a lifetime warranty, ensuring a cost-effective replacement of the domestic pipeline that will last for many years. Contact your local Lakeside plumbing technicians at Integrity Repipe to have the slab leaks repaired today.
Plumbing Leak Repairs Near Lakeside, California
Pipe Leak Repair
There is more than one way to repair a leak in the slab. The most common is spot repair, which means that the slab is opened up in the place of the leak and repairs the pipe. This is by far the most cost-effective repair for a newer construction.
Epoxy Pipe Coating
The second method is an epoxy pipe coating. This in-place pipe coating is applied throughout the inside of the plumbing, and it is usually used for systems that have a series of small leaks. This is also an affordable option, especially when digging up the slab is too much of a hassle.
Repipe or Reroute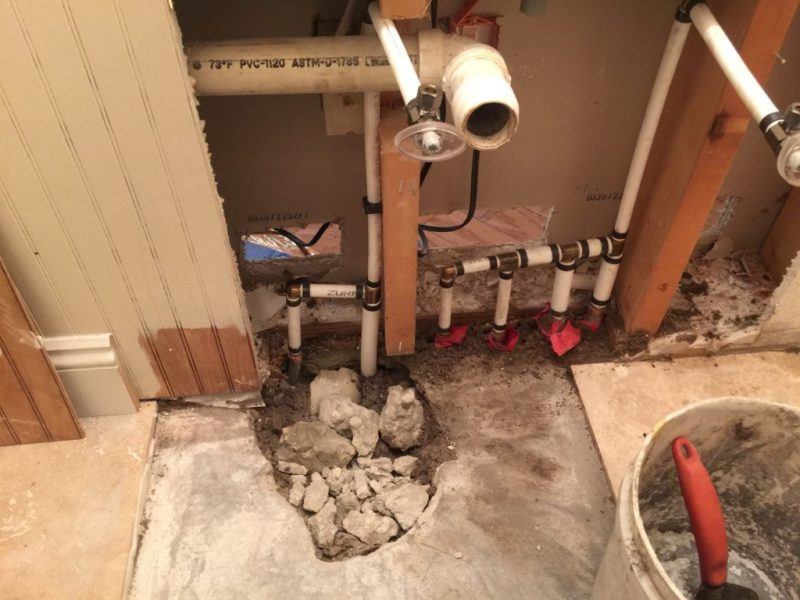 The final method is the most expensive, but it is certainly the most effective. Repiping or redirecting the entire line is used for systems that are much older and have a frequent history of leaks. Get more information by contacting Lakeside plumbing contractors in Integrity Repipe!